James F. Holloway (1834-1911) enlisted in 51st Tennessee Infantry, leaving behind a wife and little boy in Madison County to fight the Yankee invaders. His diary features creative spelling and difficult handwriting, but includes several reflective passages regarding his dreams and his reasons for fighting.

The diaries of Confederate soldiers are scarce on the market; this is the first one offered by Swann in at least eight years, and gives rare insight into the emotions which fueled the cause.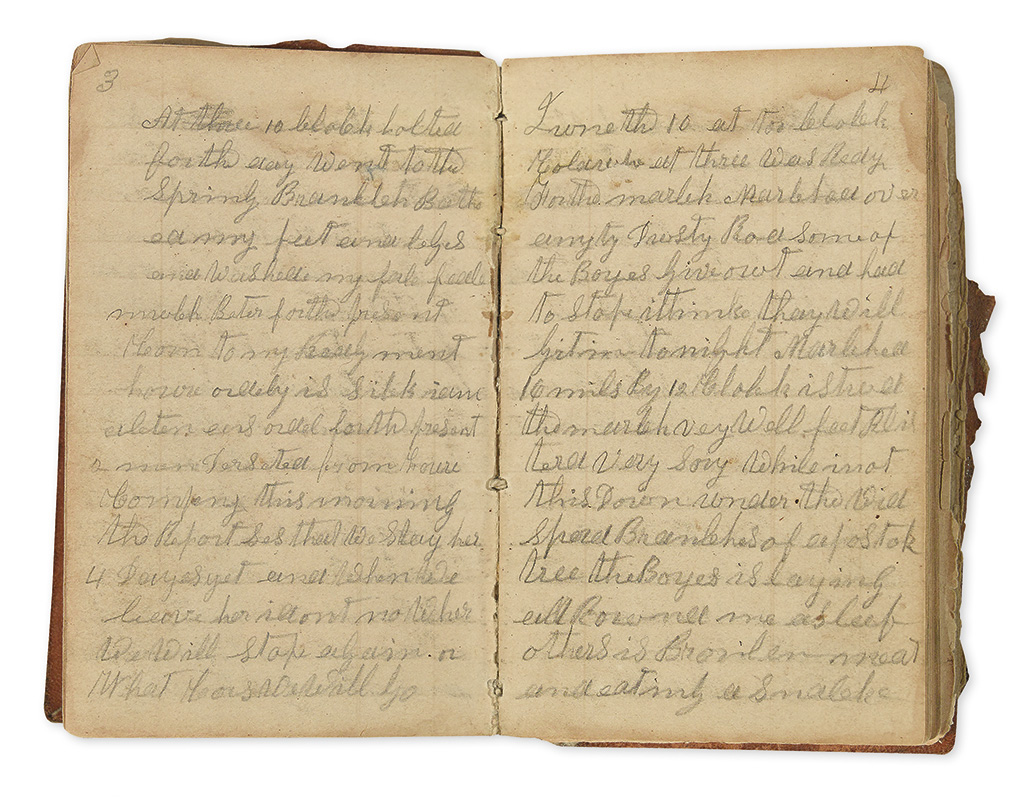 Lot 94: James F. Halloway, Diary of a Tennessee Sergeant, 1858-61. Estimate $3,000 to $4,000.
The diary opens with an account of the first day of fighting at Shiloh, which looked to be a complete Confederate victory: "Canonaden begaine at eight of clock and lasted till 12 o clock and then it ceast and then firing with small armes begaine at 7 o clock and lasted all day. . . . Rune them from ther intrenchmets and houre men is holding houre one but suferd a grat deal, but the enemy suferd a grat lost. We have brot in a grate many prisners" (6 April). The carnage of his first major battle brought an evening of reflection: "I went to church tonight and Parson Page preach for hours. The ground was houre seat and the sky was houre cover, and ingoued my self very well, but when I looked round and I seed no ladies ther, and that did not suit me, you no, at all."
Sergeant Holloway grew agitated about reports that the Yankees were looting his home county: "It paned my hart very much to learn that houre enemy pilfering houre homes and takeing whatever suited ther fancy, takeing what the pore man has earnd by the swet of his brow, but what is property compard to a man's family, his wife and litel children? . . . We are stel contending for houre rites, the rites that houre fathers and houre grandfathers pourd out ther lives for, freedom, freedom of speache and freedom of pen and pencil" (15 June). Good news came a week later: "Herd from home, all well. It releaved my hart very mutch to learn that my family was all well. I learned that the Yankes taken breckfurst with my family and treated them with respect and past them by unmolested and unharmed" (22 June).
Holloway reported frequently on the war news entering his camp as the Yankees marched to defeat in the Peninsula Campaign, including "the joyful nuse of a great victory over houre enemyes in old Verginey, and have got them in full retreat and Old Stone Wall Jackson in full pursuit of him. The nuse reached houre ears about sunset. . . . To this men then cawled fore three chears for old Jackson and they made the hole atmosphere ring with the god news of so grat a victory" (28 June) and a week later, ""We have got them, cout them off from all ther surplies, and have got them completely surrownded . . . we have ganed a completely victory over houre enemyes in the east" (5 July).
Labels: Americana, Civil War, diary, printed and manuscript americana